We may earn commission from qualifying purchases on Amazon.co.uk, Amazon.com and other stores at no extra cost to you. You may be redirected to similar products in your region. (more info)
The Ford Mustang is one of the most iconic cars ever made. In fact, it's America's only true sports car. But what gifts can you give to other mustang lovers?
Well, as part of our long-anticipated series where we share gift ideas for car lovers of all brands, we've put together this dedicated guide for Mustang enthusiasts. Whether buying for Christmas, Birthday, or Father's Day, here are seventeen great ideas for your next gift-giving occasion.
1. LEGO Creator Set
Remember how you used to play with Legos when you were younger? Well, bring back a taste of childhood with this LEGO Creator set. Your recipient can build their very own 1960s Ford Mustang GT with this 1471 Piece set and display it proudly in their home.
---
2. Race a Ford Mustang
What better experience for a Mustang lover or owner than the chance to drive one for themselves. With a track day experience from Virgin Experiences, your recipient can get behind the wheel of a Mustang Shelby GT500 at one of several race tracks across the USA.
---
3. 'Ford Mustang: America's Original Pony Car' Hardback Book
This book, "Ford Mustang: America's Original Pony Car," is full of interesting facts and stories that will appeal to ford mustang lovers. The 256-page hardback book details everything about the Mustang's history including amazing first-year sales, pioneering a new category of cars such as the Mustang GT, Shelby GT500, and Boss 429.
---
4. Men's Mustang Hoodie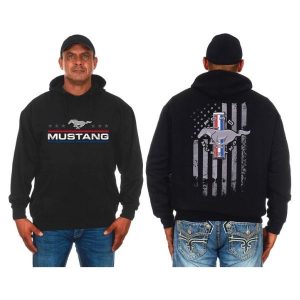 This Mustang hoodie featuring the legendary pony logo and an American flag is a great Christmas gift to keep your recipient warm through those cold winter months. This men's hoodie has an attached draw-strings hood and a pullover style that provides warmth and durability. The right mix of cotton and polyester fabric feels soft against the skin and allows you to walk out in comfort!
---
5. Memorabilia Clock
This vintage ford mustang clock is a great decoration and piece of memorabilia for your ford mustang lover's home, car, or office. It features 12 of the most famous Mustangs from the '60s through to the modern-day.
---
6. Meguiars Car Care Kit
Like all classic car owners, your Mustang owner will want to keep their car looking like new, that's why our next recommendation is this car care kit from Meguiars, which comes with everything they need to wash and detail their beloved vehicle! This 12 piece set contains shampoo, wax, interior cleaner, and other products to help them keep their car looking great.
---
7. Mustang-Inspired Record Player
This vintage-inspired Ford Mustang record player is the perfect gift idea for anyone who enjoys listening to records and has a love of cars! The retro-looking device can play vinyl records as well as having modern inputs such as USB, Aux, and radio.
---
8. Mustang Branded Car Mats
Are you a true Mustang enthusiast if you don't have branded floor mats in your car? Of course not. That's why these mats with the embroidered running horse logo make the ultimate practical gift idea. The 4-piece set shown here will fit any 1994-2004 Mustang Coupe or 1999 – 2004 Mustang Convertible but there are plenty of similar mats available via Amazon or other retailers.
---
9. 1966 Mustang Blueprint Art
This is an original piece of wall art based on the 1966 Ford Mustang Original Blueprint Art's original vehicle. The contemporary pieces can be ordered as a print on premium art paper, framed, or as a canvas.
---
10. Leather Keychain
These luxury tanned leather Mustang key chains will certainly be useful for your recipient, as well as adding a touch of class to their keys. They are made from genuine leather with several color choices, each featuring the Ford Mustang logo.
---
11. Stone Coasters
Your recipient will love having these coasters around the house or office. They are made from stone with chipped edges and laser engraved with the Ford Mustang logo. These are also available with other car logos which makes them ideal for Ferrari lovers, Lamborghini fanatics, and every other brand.
---
12. Mustang Garage Sign
Your recipient will love displaying this vintage ford mustang garage sign, which is made from metal and comes with pre-drilled holes so it can be hung on any wall near a door or window. It's made of embossed aluminum and measures 44cm (17.5″) tall x 30cm (11.5″) wide.
---
13. Key Holder
This Ford Mustang key holder in the shape of a 1965-1967 Ford Mustang Coupe is great because it can hold multiple keys and will look great on your recipient's wall. It's handmade and will be an excellent decoration for their home or office.
---
14. 'Make Cars Great Again' T-Shirt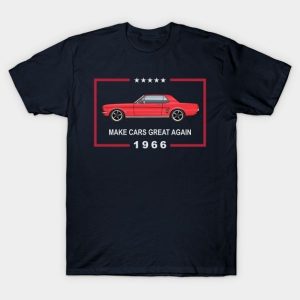 This tongue-in-cheek t-shirt featuring 'Make Cars Great Again' slogan and a Ford Mustang will be a great gift for your Ford Mustang enthusiast! It comes in various sizes and colors, is made of cotton , and will look great.
---
15. Bespoke Mustang Car Cover
This car cover is great for any Mustang owner to ensure their beloved car is protected during the Winter. It has been custom-designed to fit a Mustang to ensure a snug fit and has 5 layers for maximum protection.
---
16. Premium Pillow
This classic pillow case featuring a Mustang is one of our favorite gifts and would look great in the home of any enthusiast. The sleek black design looks premium and stylish,plus it comes with the insert included so they can get cozy straight away.
17. 5 Piece Wall Art