We may earn commission from qualifying purchases on Amazon.co.uk, Amazon.com and other stores at no extra cost to you. You may be redirected to similar products in your region. (more info)
Are you struggling to find a gift for a nurse? Well, we're here to take the pain away with this curated list of the very best nursing gifts from every corner of the internet.
From practical presents that will come in handy on the ward, to fun novelty items that will have them in stitches, we've covered every angle so you can choose the perfect gift.
Best Gifts for Nurses
Straight Outta Nightshift Hoodie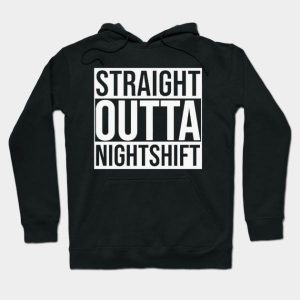 Never mind Compton, this hoodie pays homage to the night shift. Featuring a take on the classic 'Straight Outta Compton' logo, you can throw this comfy hoodie on for relaxing after a hard nights work. Featured here is the zip up version which our nurse friend said she preferred, however the design is also available as a classic hoodie or a sweatshirt so you can choose whichever is best for you.description
---
3M Littmann Classic III Stethoscope
If you're looking for a practical gift idea then this stethoscope will do nicely. This 3M Littmann Classic III is the best in the market, but don't take our word for it, Health Line, Nurse Buff and Respiratory Therapy Zone all ranked it number 1. The high acoustic sensitivity offers unbeatable performance and the dual diaphragms make maintenance a doddle.
---
Nurse Coloring Book: Sweary Midnight Edition
Every adult needs a sweary colouring book in their life. This one from Adult Colouring World has been designed just for nurses, with 40 funny and relatable designs to get stuck in to. The pages can be easily removed to pin up on the wall and share with colleagues, but you might want to keep them away from children!
---
Before Patients, After Patients Mug and Glass Set
Never accidentally drink wine or gin before a shift again with this before and after mug. This humorous gift will go down a storm with any nurse who loves their morning coffee as much as their evening tipple. The mug is a standard 325ml size and the glass is 450ml, making it suitable for both spirits or wine. Both are dishwasher safe and printed with high quality ceramic ink.
---
Funny Nurse Quote Pencil Set
This cute set of HB pencils have been foil engraved with five funny sayings that nurses will find very relatable. Puns include 'Nurses call the shots' and 'Future Nightingale'. The 19cm matt black pencils have an eraser on the end and come in a clear pencil pouch for safe keeping. They are hand made in the UK so allow extra time for overseas delivery.
---
Bedlam Among the Bedpans: Humor in Nursing
A nurse will face many serious and challenging situations on a daily basis, but this book is dedicated to seeing the humorous side of the job. It includes a range of funny stories and illustrations that capture the witty, whimsical and positive encounters faced by medical professionals.
---
Medical Scrubs Cell Phone Case
A mobile phone case fit for any nurse. This funny case is available as a soft gel case, a one-piece snap-on case or as a touch case with double layers for extra protection. Once you've decided on the style, choose the correct phone size and await this made-to-order gift.
---
Personalized Gifts for Nurses
Add a personal touch to your gift with one of these custom gift ideas that's well suited for any nurse or medical professional.
Coffee, Scrubs and Rubber Gloves Mug
This 10oz dishwasher safe mug is the ideal personalized gift for a nurse who loves a good cuppa. The hand made design features a illustrated nurse and you can opt to add the recipients name underneath. You can also customise the colour of the nurses scrubs according to what your recipient wears. On the opposite side is a fun quote we're sure any nurse will relate to; coffee, scrubs and rubber gloves.
---
Personalised Water Bottle
This personalised stainless steel water bottle is the perfect gift to give to your favourite nurse or carer. Featuring a beautiful illustration and a personalised name or message, you can add that extra special touch to show them that you've put thought in to it. The 500ml bottle is insulated for hot or cold drinks and the smart presentation box adds a nice final touch.
---
Stethoscope Wall Art
Add 20-30 words of your choice and the seller will create this bespoke wall art in the shape of a stethoscope that any medical professional or student will love. As standard the design is delivered on thick 240gsm glossy card, but you can opt for a frame or just a digital file to print and frame yourself.
---
Nurse Gift Set in Personalized Box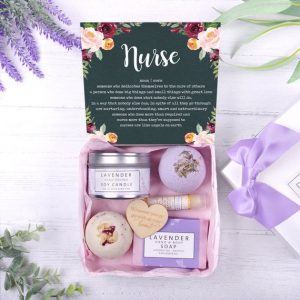 This gift set is a thoughtful way to say thank you to your favorite nurse.  It includes a scented candle, mirror, cream, purse, and sweets all contained in a personalized gift box put together by Amy Lucy Designs. This is an excellent way to show your appreciation for key workers that have looked after you.
---
Personalized Stethoscope ID Tag
In a building full of stethoscopes, an ID tag is essential so this personalized copped ID tag engraved with the name or message of your choice will be a helpful tool. It slides over the earpiece to attach and can be squeezed closed so it won't fall off.
---
Thank You Gift Ideas for Nurses 
It's hard to find the right gift to thank nurses, care workers and medical professionals for their dedication during tough times. Whilst often a thank you card and some chocolates will be just enough, sometimes it's nice to put in a little extra thought. We've pulled together some thoughtful thank you gift ideas for when words aren't enough.
Thank You Key Ring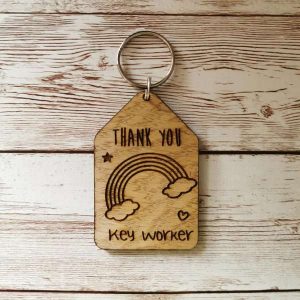 Say thank you to your nurse with this thank you keyring keepsake. Made from textured oak, it will be laser engraved with the message of your choice or you can leave it as it is, we already think it makes a great gift. The size is 40mm x 30mm and a gift bag is an optional extra.
---
Wooden Heart Thank You Plaque
This wooden heart cut out is an ideal thank you gift for nurses that help you through tough times. The plaque is printed on FSC certified wood with a heart-felt message to tell them exactly how you feel and comes with waxed cotton rope ready for hanging at home, on a ward or in a care home.
---
Shea Butter Hand Cream Gift Set
With such frequent hand washing, it's important that nurses look after their skin with moisturising hand cream. This Shea butter hand cream gift set is just the ticket for hydrated and rejuvenated skin. It comes in a beautifully presented box of 6 x 30ml tubes, each with a unique fragrance, making it ideal to give as a present.
---
Willow Tree Thank You Figurine
Show your appreciation for a nurse, care giver or other key worker with this Willow Tree thank you figurine. These beautifully carved sculptures are a wonderful way to communicate your gratitude with an ornament that will also look great on the mantelpiece. Each design is hand carved by the artist before being re-produced and packaged in a gift box for someone special.
---
Gift Ideas for Nursing Students
If you're hoping to buy a gift for someone studying to become a nurse then you're looking in the right. This list of gifts has been especially curated for those still in education and working towards becoming a registered nurse.
From helpful books and stationery for their education, to fun items that will bring a smile, we've covered every avenue in this top gift guide.
First Year Nurse: Wisdom, Warnings, and What I Wish I'd Known
An invaluable book with stories and advice from experts that have gone before. Be prepared for the first day on the job with wisdom from hundreds of experienced nurses. Tips include dealing with colleagues, coping with stress and how to deal with patients. This is a practical gift that any student or budding nurse will really appreciate.
---
A5 Academic Planner – Week to Two Pages
Every student needs an academic diary that runs from July to June as opposed to tradition annual diaries. This premium diary is made with cream paper and comes in an exquisite gift box with pen holder and elastic closure to keep notes neatly inside, ideal for nursing students with lots of paperwork. This is an A5 diary with a week on two pages and yearly overview.
---
Anatomy and Physiology Flash Cards
The flash cards are ideal for nursing students with 335 illustrated and informative cards printed on thick card and coated for durability. They are produced by Scientific Publishing Ltd who have been creating teaching aids for medical students for two decades. Ideal for home, the library or in class, these cards cover everything from digestive systems to pregnancy and are colour coded for easy reference.
---
Human Anatomy Shower Curtain
Who said you couldn't learn in the shower? This high resolution shower curtain features educational diagrams of the human body with organs and other key body parts labelled for memorising in the shower. This is perfect for any nursing student as a fun and useful way to brighten up the bathroom. Hooks are included and no liner is required.
---
The Student Nurse Handbook
This is the ultimate handbook for anyone starting out on their nursing degree, written by a registered nurse who can provide first hand experience. It covers all the essential things undergraduates will need to know including key topics, theories and philosophies, planning your work, tutor expectations, making the most of clinical placements and more. The book offers a down to earth commentary that is a nice change from the stern clinical text books usually on offer.
---
N.U.R.S.E T-Shirt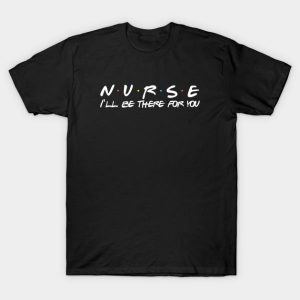 We're sure you'll recognise the famous TV sitcom that inspired this T-shirt, and if not, then you best keep scrolling. Available in a variety of colours and styles, this 'I'll be there for you' T-shirt design is a fitting gift for any friends-loving nurse in your life.
---
Novelty Syringe Pens
Nursing students can never have too many pens lying around, but these ones are sure to baffle everyone around them. The retractable ball point pens are a variety of colours on the outside to give the impression of different shots, but all write in black ink so they are suitable for use in the workplace.
---
Graduation Gift Ideas for Newly Qualified Nurses
If you're struggling to choose a graduation gift for a newly qualified nurse then this list is just the antidote you need.
Nurse Graduation Keyring
This 'she believed she could so she did' key chain makes a wonderful graduation gift for any newly qualified nurse. It includes an antique silver stethoscope charm, a birthstone of your choice. The keyring can be personalised with your recipients initial and graduation year for a thoughtful present.
---
Retractable Badge Clip
Any newly qualified nurse will be appreciative of a new badge holder. You can find plenty that are bespoke to the nurses interests outside of work or you can play it safe with a fun nursing-themed badge holder like those shown here.
---