We may earn commission from qualifying purchases on Amazon.co.uk, Amazon.com and other stores at no extra cost to you. You may be redirected to similar products in your region. (more info)
We've all got that person in our lives who's crazy about horses, whether they're an owner themselves, love a day at the races or just can't stop thinking about their favorite four-legged friends.
In this gift guide I'll share some inspirational ideas for that perfect equestrian present, suitable for birthday's, Christmas or just a friendly gesture. Let's quit horsing around and jump in to the list (Don't think the horse puns end here).
Engraved Horse Shoe Necklace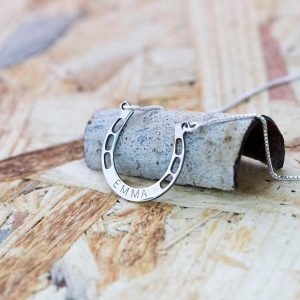 Show that special someone that you really care with this stunning horseshoe necklace which can be engraved with your recipient's name. These horseshoe pendants are the latest trend among the horse-loving community so you know it will go down well.
---
Horse Cushion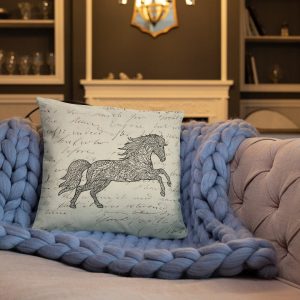 This luxurious horse cushion will add an equine feel to any room. The plump cushion is comfy and looks great with print on both sides and a shape-retaining polyester insert dso it's perfect for cuddling up on the sofa at the end of the day.
---
Horse Fleece Blanket
This high quality horse print blanket is super cute and super cosy. Available in double or king size it's perfect for snuggling up on the sofa or keeping you warm in bed at night.
---
Horse Print Scarf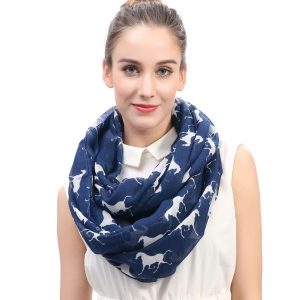 This beautiful scarf features galloping horses on a grey or blue background which will leave you looking stylish whilst showing off your love for horses. This gift can be personalized with an engraved gold charm for a personal touch.
---
Horse Monopoly Board Game
Everyone's favorite board game is back, this time with an equestrian twist. In the horses and ponies version of Monopoly, you'll compete to take ownership of the best horse breeds, you can then build stalls and stables to maximize your success. But make sure you save some horse money for those unexpected vet bills.
---
Personalized Horse Mug
A personalized mug that any horse owner will relate to. Add the name of your horse to this 11oz mug, perfect for a warm drink after a day working in the stables.
---
I'm in a Stable Relationship T-Shirt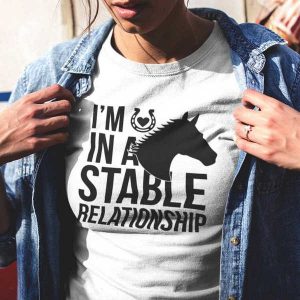 I love a good pun and this t-shirt tops it off for me. This t-shirt will look great with jeans or leggings and is perfect for anyone who spends a little bit too much time down the stables. It's also a fantastic price and a quick turn around form the Etsy store.
---
Willow Tree Horse and Girl Plaque
Willow Tree plaques and figurines have long been a great way to share emotions and appreciations with loved ones. This plaque featuring a girl with her horse shows the friendship between people and their pets, it includes an enclosure card with "Always there for me". This can be hung on the wall or placed on a plaque stand (available separately).
---
Cold Cast Bronze Horse Head Sculpture
The beautiful horse head sculpture, made from high-quality cast resin, makes a great luxury equestrian gift for someone special. No detail has been spared with an involved design by a renowned artist. The 16cm high bronze sculpture sits on a custom wooden base so it can take pride of place in your recipient's home.
---
Duvet & Pillow Case Set
>
Be reminded of your favorite furry animal as you hit the hay. This machine-washable duvet and pillowcase set is printed with a beautiful horse design in neutral colors that would easily match any room.
---
Hilarious Hoof Socks
These hilarious socks will have you hoofing around the house as you turn your human feet in to horses' hooves. It's not just horse hooves on offer, there are 13 animal paw patterns to choose from and they are all one size fits all, you'll have a personal zoo before you know it.
---
Horseshoe Wine Rack
This sleek pyramid wine rack is made from recycled horseshoes and will look good in any home. The rack shown here will hold 6 regular bottles of wine, but if that;s too much, you can opt for their smaller 3 tiered version. This gift is guaranteed to be popular with any wine loving horsey friends and cause to pop open a bottle to celebrate.
---
Handmade Horse Cuff Links
These handmade horse racing cuff links are the real deal for a day at the races. They are made from solid pewter and come in a luxury presentation box, hopefully they'll bring some good luck too.
---
Horse Gift Wrapping Paper
So you've got a gift in mind, now make it that extra bit special with this unique horse print wrapping paper. This set includes 2 sheets of gift wrap featuring watercolour illustrations of horses, horse shoe, whip, bit and stirrups as well as matching tags.
---
Host Your Own Race Night Game
Host your own race night with this DVD game. Dress up or dress down for this at-home game featuring 32 races. No more relying on the weather and you can keep your money in your pocket (unless you're a competitive family of course).
---
Personalized Horse Print Wall Art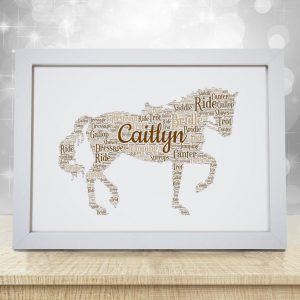 Add a personal touch with this unique wall art that's will look great in any horse-themed room. Complete customization with a variety of color options to choose from and you can choose all the words that feature on the print or leave it to the designer. The prints are available in A4 or A5 with a carefully sourced frame suitable for hanging or standing.
---
Deluxe Weathervane with Black Horse
They say you can spot a horse fan from a mile off, well you certainly will once this weathervane has been installed. Hand cast with recycled aluminium and will fit most roofs.
---
Horse Grooming Kit
If your gift recipient is a long-time horse owner then likelihood is that they have all the kit they need, but for any newbies to the horse community, why not invest in a complete horse grooming kit. You won't want to skimp on this so invest in a quality kit like this one.
---
---