We may earn commission from qualifying purchases on Amazon.co.uk, Amazon.com and other stores at no extra cost to you. You may be redirected to similar products in your region. (more info)
Are you in search of a birthday, Christmas or mothers day present for a knitting enthusiast? Well congratulations because this is the thread for you (you better get used to the knitting puns while you're here).
We've consulted our knit-crazy friends and searched every corner of the internet to create this handy guide, from practical gifts for that knitting life to fun novelty items that will have you in stitches (seriously, we warned you about the puns).
Sew without further ado, lets get to it.
Crafting Wall Art
This lovingly hand drawn knitting art has been digitally recreated to add a modern and elegant touch. Expect a high quality A4 print on matt paper that can be hung as it is or framed for that extra special person.
---
Personalised Bamboo Knitting Kneedle
Add a personalised touch to your present with a bespoke bamboo knitting needle featuring a name and message of your choice. Comes displayed in a premium presentation box for that extra touch.
---
Stitch Row Counter
A handy little gadget that ever stitcher and avid crocheter should have in their toolkit, perfect to keep count of stitches and rows without the need for a pen and paper. Lightweight and portable.
---
Vogue® Knitting: The Ultimate Knitting Book
Straight from the top of Amazon.com's best selling knitting books, Vogue Knitting is an ideal gift for all abilities, from beginner back-stitchers to well-trodden weavers. With over 1600 photos and hand-drawn illustrations, Vogue Knitting is a handy book that will prove useful for years to come.
---
Knitting Bag for Hobbyists
Life will be a hoot with this owl themed knitting bag, a stylish and practical gift for knitting hobbyists. The elongated bag is the ideal shape for carrying needles up to 40cm plus there's a useful wool dispenser on the side which all knitters will find useful to prevent tangled wool.
---
Personalised Wooden Needle Box
This beautiful wooden box is sized to fit any knitting needles and comes personalised with a design and message of your choosing. It securely fastens with a strong clasp to keep the box closed when not in use.
---
Wooden Yarn Umbrella
Anyone who has tried winding yarn from a skein to a ball will know how awkward this can be without the correct tools, and one of those tools that makes the life much easier is a yarn umbrella. This wooden one is over 60cm wide when opened and to make winding simpler, the adjustable clamp can be fixed on to tables, chairs or any other surface up to 4cm thickness.
---
Knit Pattern Ceramic Mug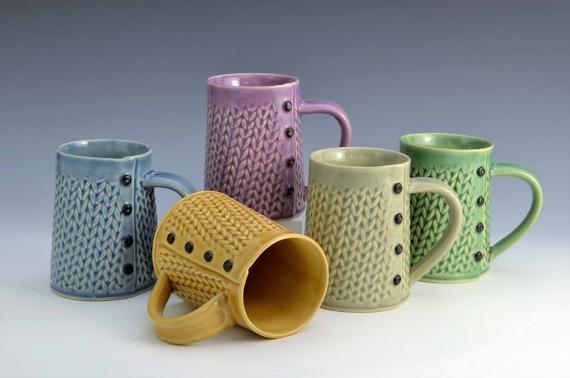 We love love love these! This Etsy store sells ceramic mugs, bowls and trays that are hand crafted to look like knit patterns. These products are all made to order and are in high demand so there's a long led time and quite pricey, we still think its worth it for that special someone.
---
Personalised Vintage Knitting Sign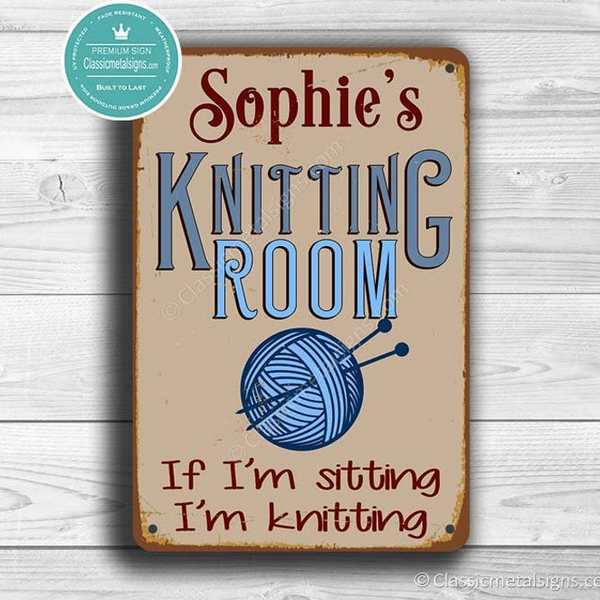 This knitting sign is one of many rustic effect bespoke signs available in this Etsy store. They're available in a variety of sizes and are finished with rounded corners and ready made holes for easy hanging.
---
Set of Multicolour Yarns
This set of multicoloured yarn skeins and with wool patterns is great for a beginner or someone venturing on a new project. They are ideal for crochet flowers, granny squares, pompoms, hats, and more.
---
Adorable Chicken Yarn Bowl
These cute made-to-order yarn bowls make an adorable, yet extremely practical, gift for avid knitters. Measuring 15 cm in diameter and 9 cm tall, it will hold most standard sized yarn balls and prevent any unnecessary attention (we're looking at you cats) whilst you knit that nice woolly hat. These are only hand made in the UK so allow a few weeks lead time, especially if ordering from overseas.
---
Novelty Sheep Yarn Bowl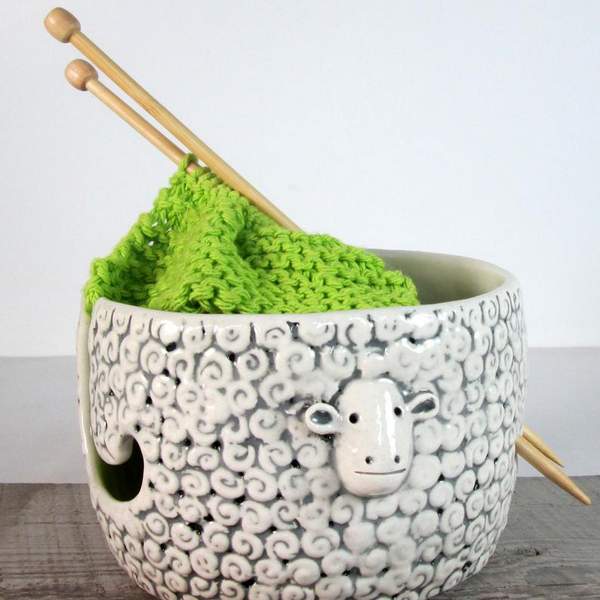 Feeling sheepish? It's easy to see why this novelty yarn bowl is a best seller on Etsy, you'd be baaarmy to miss out. This yarn bowl will stop the unnecessary rolling around of the wool whilst knitting and it's unique design makes it a great ornament when not in use.
---
Knit Happens Yarn Mug
This gift may look like a skein of wool but it's actually a detailed and lifelike ceramic mug. As well as a unique design, it features a funny pun, Knit Happens, which is sure to brighten up the recipient whether its mothers day, Christmas, birthdays or any other occasions.  This was our favourite design but it's also available with other sayings, including 'knitting keeps me from unravelling' and crocheter – one armed hooker'.
---
Personalised Labels for Knitting Projects
Not only will these woven labels add a professional touch to your hand knitted items, they will also serve as a loving reminder of the creator. These 12mm wide labels can be customised with names, phrases and icons in the colour of your choice. Pack sizes start from just 36 so they are just as suitable for home projects as small businesses.
---
Knitting Journal with Graph Paper
Keeping track of current and future projects will be a doddle with this knitting journal and notebook. Featuring 120 pages of graph paper, it can be used for sketching out new designs or recording notes about exiting projects such as needle sizes, where the yarn was bought or where the pattern came from. The front cover is made from a soft matt material with a fun knitting quote.
---
Harry Potter Knitting Magic Pattern Book
Since launching in January this book has taken the knitting world by storm and is one of the most gifted items on Amazon.co.uk and Amazon.com so it's perfect for this list. Featuring over 25 Harry Potter knits from the iconic films including Weasley Christmas jumpers, house scarves and some of the creatures from the films. A must-have for knitters and Potter fans in 2020.
---
Ultimate Storage Bag for Knitters
This strong and durable heavy-duty nylon knitting storage box is just what any serious knitter needs to keep all their equipment organised. It has been thoughtfully designed with holes for the yarn to feed through, mesh pocket for crochet hooks and other accessories and a large main compartment for the bulk of the supplies.
---
F**K Off I'm Knitting Mug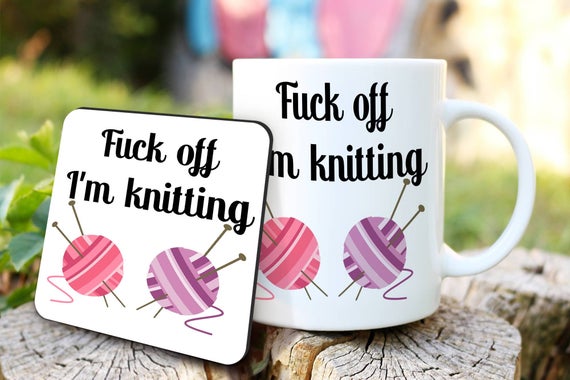 This funny mug and coaster set makes a great gift for the avid knitter with a sense of humour. The 11oz mug and 10x10cm coaster are available individually or as a set and are made with professional inks so they will stand the test of time. This is one way to get in the good books.
---