We may earn commission from qualifying purchases on Amazon.co.uk, Amazon.com and other stores at no extra cost to you. You may be redirected to similar products in your region. (more info)
We all know an avid hiker and since you landed here, we're guessing you do too. They're that person that's hiked three mountains whilst you've watched a series on Netflix (or is that just me?!).
Coming up with that perfect gift for the hiker in your life isn't that easy, but luckily, we're here to summit up for you. From novelty to practical, funny to thoughtful, it's all here. You can browse the full list for inspiration or use the category drop down to filter the selection.
Best Gifts for Hikers
Here are our top recommended gifts for your friends that love hiking:
Epic Hikes of the World – Lonely Planet
This book from leading travel publisher Lonely Planet features tales from 50 hikes around the world with photographs, maps, and planning tips. There's also 150 additional hiking suggestions that are sure to inspire any budding hiker.
---
Personalised Stainless Steel Water Bottle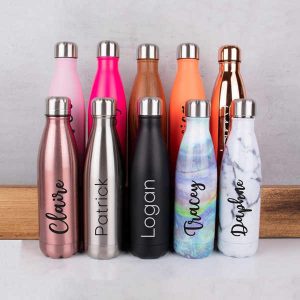 These stainless steel water bottles are perfect for keeping hydrated out on the trail and the double wall insulation will keep warm drinks warm and cold drinks cold. Plus it can be personalised with your recipients name for that extra touch.
---
'Hike More, Worry Less' Camping Mug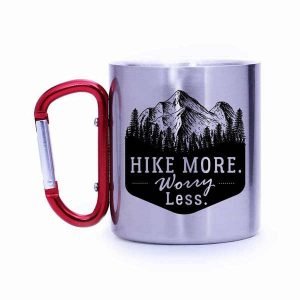 This stainless steel mug is ideal for long hikes or overnight camping. It's insulated to allow you to enjoy a warm or cold drink and has the red carabiner handle for easy attaching to the outside of the bag. We like this 'hike more, worry less' design but there are loads of options to choose from.
---
National Park Prints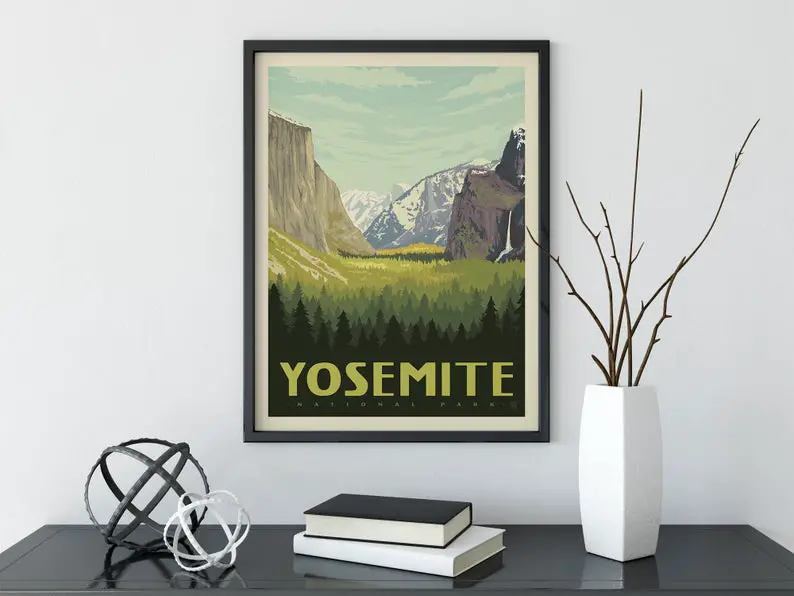 These beautiful national park prints from this Etsy store are a great way to pay tribute to your favorite national parks around the world whilst still keeping a stylish look.
Each print is made on art paper with a matt finish. In the shop, you'll find national park prints from around the world in both a minimal or traditional design.
---
Cascade Lightweight Trekking Poles
If you're buying for a newbie hiker then chances are that they don't yet know how incredibly awesome trekking poles are for hikes, you can be the one to change that. There are tons of brands to choose from but we like these aluminum poles from Cascade which are ranked as the best value for money by Outdoor Gear Lab.
---
Hiking and Dogs T-Shirt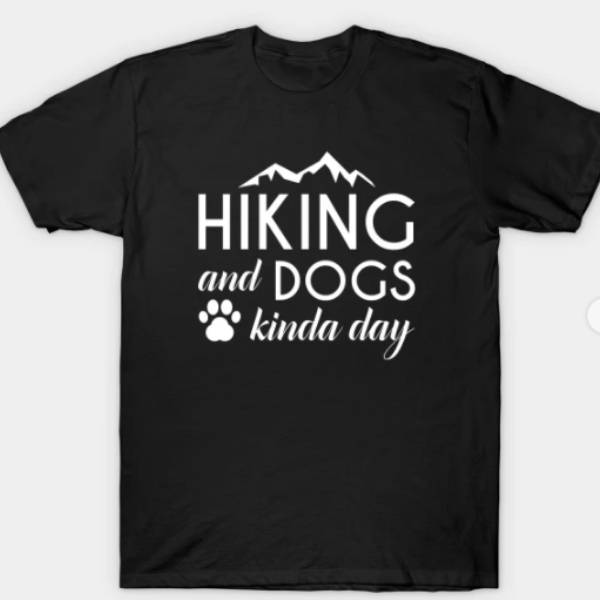 Hiking and dogs – where do I sign up?! This classic fit t-shirt is perfect for anyone who loves experiencing the outdoors with man's (or woman's) best friend. The t-shirt is available in a variety of other fits and colors too.
---
Camping Hammock
Camping hammocks are essential on longer hikes and if you get the correct one it can be a great alternative to a tent that's lightweight to carry. This Covacure double camping hammock is considered the best in the business made from 210T Parachute Nylon with a ventilative nylon Mosquito Net and all the essentials for hanging it.
Garmin eTrex 10 Handheld GPS Device
This is a gift for veteran hikers who make it to the more remote parts of the world. Once you get to super rural regions or covered areas such as forests, phone GPS systems using cell towers just won't do the job so an expert GPS is required. This Garmin eTrex 10 is widely considered the best mid-range device on the market, built for the elements.
Bespoke Mountain Wall Art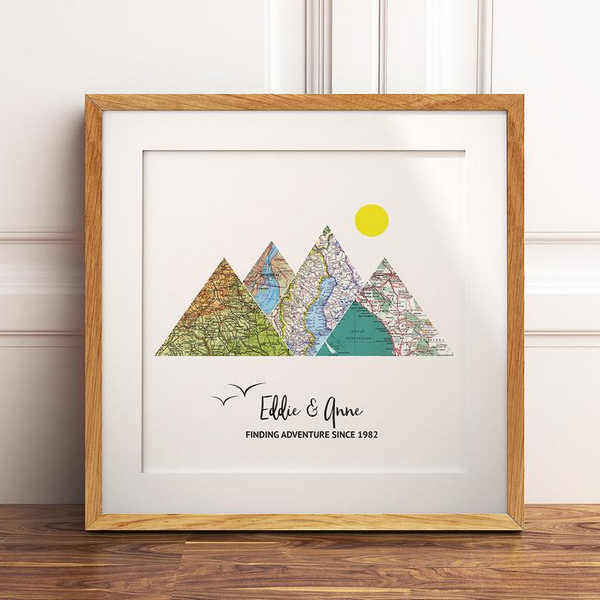 This beautiful keepsake wall art is bespoke to you with vintage and modern map scans of locations that mean something to you. This is a super emotional gift that also looks great on the wall with the mountain-style design that can be bought as a digital download to print and frame yourself or pre-framed.
---
Oakley Flax Hiking Sunglasses
A pair of good sunglasses are essential for hikers, especially if they frequently go to high altitudes where the sun is stronger so this is a gift they'll appreciate. We wouldn't advise skimping on sunglasses, they need full UV protection, polarized optics and poly-carbonate lenses. Oakley are a go-to name in sports eye wear and these Flax 2.0 XL sunnies are perfect for the occasion.
---
Women's Hiking Socks
Ideal for trekking, walking, hiking, backpacking or any other outdoor activity, these walking socks area great little gift for any outdoorsy woman and especially hikers. Soft and comfortable, they prevent any blisters whilst keeping your feet nice and snug.
---
Train Journal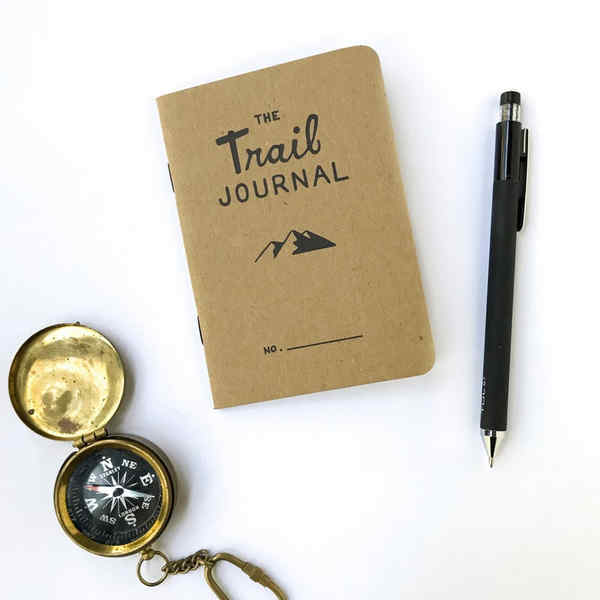 This gift is for hikers who enjoy tracking details of their journey and surroundings without the use of a phone. With this book, you can also sleep safe in the knowledge that this slim 32 page book is made of 100% recycled paper, and using eco-friendly vegetable-based ink.
---
GPS Hiking Smartwatch
Watches have evolved from simply telling the time to offering a whole raft of functionality. Suunto is a brand that will be recognised by hikers and outdoor enthusiasts for their GPS equipment, but in the Suunto 7, they've combined the latest WearOS smartwatch tech to offer you notifications on your wrist, advanced activity tracking and offline music storage, all whilst looking sleek on your wrist.
---
Go Hiking T-Shirt
This tongue-in-cheek t-shirt with "Go hiking – worst-case scenario, you have to eat your friends" is guaranteed to put a smile on the recipient's face every time they wear it. The t-shirt is available in several colors, sizes, and styles for both men and women.
---