We may earn commission from qualifying purchases on Amazon.co.uk, Amazon.com and other stores at no extra cost to you. You may be redirected to similar products in your region. (more info)
Are you hoping to buy a present for that special someone who just loves a festival? Well we're here to help. Whether they're an old time raver at music festivals or an attendee at culture festivals, we've created a gift list with something for everyone.
They will undoubtedly be accustom to camping in all sorts of weather and with the not so pleasant festival facilities, we've included some practical gifts that will be perfect for taking along, or a few memorable items so they can keep thinking of the good times long after the festivals have ended.
50 Festivals to Blow Your Mind – Lonely Planet
Get the lowdown on the world's best festivals with this complete guide from lonely planet. It covers foodie festivals, art and culture, music festivals and some just bizarre festivals such as the air guitar world championships, the UFO festival and La Tomatina where attendees throw tomatoes at each other all day.
---
'I'd Rather Be At A Festival' Mug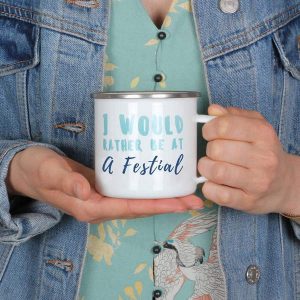 Tell the world where you'd rather be with this 'rather be at a festival mug'. You can even personalise it to a specific festival if the recipient has a favourite. It's white enamel so it's perfect for travelling, and yes, it's great for taking to festivals.
---
Foldable Festival Trolley
The ultimate festival essential that everyone forgets about until the day of the festival, a carry trolley. Anyone who's visited a festival will know how laborious the walk to the campsite can be, and even worse, the way back after. This foldable trolley will make the journey 100X easier, but don't skimp on a cheap trolley as it's a disaster when they break mid-journey.
---
Inflatable Lounger
First discovering inflatable loungers will blow your mind. Simply open it up, run around to catch some air and tie it shut, you've instantly got a comfy lounger which is perfect for festivals. No more carrying those awkward camping chairs, these sleek loungers roll up really small and are the future of festivals.
---
Festival Fund Money Box
Are you buying for someone who struggles to save? We all know how tough that can be. Luckily, this festival funds money box makes it that little bit easier. Did we even mention how cute it is! Having this on your shelf is great motivation to set some money aside for the next festival shenanigans.
---
Funky Bucket Hat
Did anyone tell you that bucket hats are well and truly in fashion at festivals? Amazon has loads to choose from, but we really like this psychedelic style canvas hat for a true festival vibe.
---
Tie Dye Festival Leggings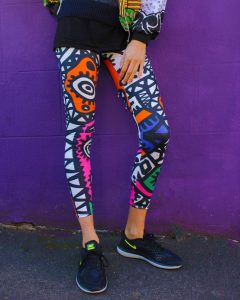 What says festival goer more than tie dye clothing? We're not suggesting you get the paint and elastic bands out just yet. This Etsy store has done all the hard work with an amazing array of tie dye leggings, bags, coats, cardigans, you name it. You can't go wrong with any of these fantastic designs that will look great at any festival.
---
Festival Survival Kit
This kit has everything you need for your next festival and it comes in a handy metal tin that makes it compact and convenient to carry in your festival bag. Comes with ponchos, a flashlight, earplugs, and a spork.
---
JBL Portable/Waterproof Bluetooth Speaker
Perfect for any camping festival, a portable Bluetooth speaker is just what you need to bring the party to the campsite and keep it going after hours. The JBL is just fit for the occasion, waterproof, extremely durable and with a long battery life, it's got everything you need and sounds epic.