We may earn commission from qualifying purchases on Amazon.co.uk, Amazon.com and other stores at no extra cost to you. You may be redirected to similar products in your region. (more info)
If your dog groomer has a tendency to spoil your pup, then why not return the favor with a paw-some Christmas or Birthday gift in return. We've searched high and low for the greatest gifts that are perfect for your dog groomer and the internet has delivered greatly.
We've something for everyone in our curated gift list, including practical gifts for use in the salon, to fun presents for dog lovers that will make them howl with laughter.
Best Gifts for Dog Groomers
Dog Grooming Apron
This purpose-made apron has been designed especially for grooming dogs. It's made from a waterproof, easy-to-clean material with two multi-functional pockets on the front for keeping the essential tools in. The sleeveless design makes it comfortable to wear and easy to maneuver.
---
Hand Repair Gift Set
A job like dog grooming takes it's toll on your hands, especially during the winter months when it's generally colder, cracked hands can become a problem so they have to take extra care to look after their hands. So this hand repair gift set will be a very thoughtful and practical gift a groomer.
---
Dog Wisdom Tumblers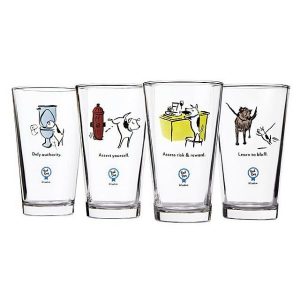 This fun set of US-made tumblers feature funny illustrations with some 'wisdom' quotes that will teach groomers and owners a few new tricks. Each glass is 16oz and can be used for soft drinks, ice cream, or a good old beer after a day at the salon.
---
Dog Groomer Keychain
This key chain certainly does a good job of getting its message across and makes an ideal gift for your dog groomer. Featuring mini grooming charms and a relevant message that will definitely make them laugh, if not raise an eyebrow or too!
---
Dog Grooming Kit Bag
A splash-proof bag designed by Wahl with dog groomers in mind so that they have somewhere to store all of their essential tools. As well as being practical, the stylish paw print design is fit for the occasion. It has a large main compartment as well as smaller pockets for organization so they will never lose a brush or clippers again.
---
Doggy Treats Jar
Every grooming parlor needs a bribe jar, aka a doggy treats jar. This is ideal for when the dogs just won't calm down. This Bone Appetite design is fun and has a premium look that makes it perfect for giving as a gift for your dog groomer's hard work. We recommend pairing it with some treats so it's ready to use. This also makes an ideal gift for dog walkers or anyone else who does a paw-some job of helping out with your dogs.
---
World's Greatest Dog Groomer Mug
Who doesn't love a mug that says they are the 'world's greatest' at something? This mug will take pride of place in your groomers saloon and with print on both sides, everyone in the room will get to see the fun design. The mug is two-tone so it transforms from black to white when hot water is added.
---
Doggy Desk Calendar
This vintage dog-shaped desk calendar will look great on your groomer's desk or at the front of the parlor and will be very handy to glance at when making appointments. It is made entirely from wood with two hand-painted date blocks and 3-month blocks that will have you covered year-round. Unlike a traditional calendar, this is a permanent gift that can be reused every single year.
---
Custom Doggie Crocs
Crocs seem to be the go-to footwear in grooming parlors these days, not least because the floor can get very wet and they are easy to clean. Why not treat your groomer to a new pair of crocs unlike any they have ever seen. These custom crocs from an Etsy seller have a creative doggie doodle design that is sure to attract lots of praise from their clients.
---
How to Speak Dog Cards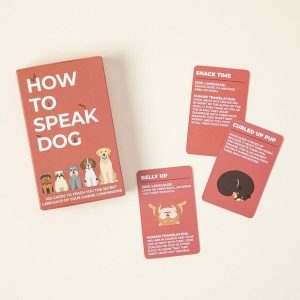 When they spend all day grooming dogs, it's important to know exactly what they are saying. Well, now they can thanks to these 100 illustrated tongue-in-cheek cards that will help them understand exactly what the dogs want.
---
Dog Groomer Caricature
If you're looking for a personalized gift for your dog groomer, then this custom caricature is just what you need. Provide an image of your groomer at checkout and within 5 days you'll receive an incredible caricature like the one shown here. You'll receive it as a digital file which you can print yourself or there is an upgrade on the listing to have it as a poster or canvas.
---
Thank You Candle
This small candle is a great thank you gift for dog groomers who have gone the extra mile to look after your baby. The 4oz candle is made from soy wax with a vanilla scent. It's custom-made especially for groomers with a thank you message and paw print on the lid. Not all groomers have their own pets at home so this candle makes a great gift for dog lovers without dogs themselves. Plus the shop donates some of its profits to animals which is a great addition.
---
'Dogs Welcome, People Tolerated' Sign
This final gift idea for dog groomers is so good that I can almost guarantee you'll end up purchasing one for your own home too. The 'Dogs Welcome, People Tolerated' sign is perfect for displaying in the front window. At 10″ long, the small wooden sign isn't too obtrusive and comes with twine attached for easy hanging. If you're looking for a simple gift under $20 then this is the one for you.
---
Nerf Tennis Ball Blaster
Chances are that your groomer is a dog mom or dad, so you can't go wrong getting a gift for the dog too. This tennis ball blaster is the perfect toy that both dog and owner can enjoy together. It has small diameter balls which are great for dogs of all sizes and the blaster shoots them up to 50 feet for some great games of fetch.